Building More than Houses
Each February, we celebrate our Construction Services volunteers with an Appreciation Breakfast. This year nearly 80 volunteers and staff members gathered as we celebrated collective accomplishments, honored longevity, recognized significant hourly contributions, and talked about the future.
Here are a few highlights shared during the event:
• More than 50% of the total volunteer hours contributed to Asheville Habitat's construction program in 2016, were contributed by 80 construction "core" volunteers! These folks volunteer on our jobsite at least one day each week.
• Collectively, construction cores provided 17,570 hours of volunteer service!
• 28 cores each contributed more than 250 hours of service last year. Each received a golden hammer pin.
• The highest hours earner was CJ Obara, with 641 hours!
Longevity awards recognize years of volunteer service:
• 5 years – Beth Greck and Buddy Tallant
• 10 years – Ross Akin, Alan Cutter, Joyce Davis, Lou Farquhar, Neil O'Sullivan, Ken Roth, Sharon Waugh, Jim Worley
• 15 years – Ray Ducharme, Bob Laveck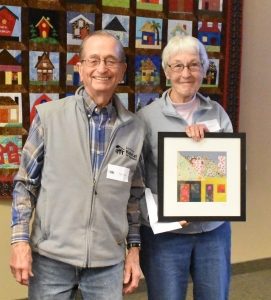 • 20 years – Ken and Carol Deal (pictured, R)
We celebrated staff milestones, too. John Meadows has been a Construction Supervisor for 10 years and Kenny Busch just reached the 15 year mark!
Director of Construction Services Paul Reeves noted that 2016 was a year of change, with multiple staffing changes and four different building sites. None the less, our staff and volunteers rose to the occasion and served the largest number of families to date. 44 Home Repair clients and 14 new homeowners in Buncombe County now have decent and affordable housing.
Looking forward, we'll be moving to Arden in the early summer to begin a 21-house subdivision, and we'll be building a Habitat house in McDowell County as part of the SECU Challenge to build or renovate 100 houses in 100 NC counties. Also, we will solidify plans to introduce multi-family housing on a 16-acre parcel in West Asheville that the City of Asheville is helping us secure.
Home Repair Supervisor Joel Johnson thanked his core volunteers, Lonnie Lief and Garland Walker, who have been volunteering consistently for 3 years. Home Repair is unlike new construction in that the scope of work varies from project to project and the jobsite often changes daily. It's difficult to plan a volunteer calendar in advance, so we appreciate Lonnie and Garland's flexibility and commitment to the growing Home Repair program.
We were also pleased to be joined by Jeff Staudinger (pictured below), the Community Development D
irector for the City of Asheville, who was able to put Habitat's contributions into the larger affordable housing context. He expressed the City's enthusiasm for Habitat's upcoming higher density neighborhood in West Asheville (currently referred to as Cedar Hill). Staudinger also referenced statistics from the Bowen Report and reiterate the City's commitment to creating new public/private partnerships, and continuing to work to remove barriers, increase density, and strengthen the relationship between housing and transportation. "Shelter is the foundation for everything else," he noted. "And as Habitat volunteers, you are working directly on the affordable housing crisis."
In closing remarks, Executive Director Andy Barnett reminded the audience, "You are volunteering regularly to build the kind of community you want to live in…you are the hearts, hands and voices of affordable housing. You embody our mission."
Habitat volunteers build and repair houses – and they build community. They help families build strength, stability and self-reliance. If you would like to be part of the affordable housing solution, click here to learn about Habitat volunteer opportunities.
To see event photos, please click here.
https://www.ashevillehabitat.org/wp-content/uploads/2018/12/blog-CS-vol-breakfast.jpg
350
800
Asheville Habitat
https://www.ashevillehabitat.org/wp-content/uploads/2022/11/AAHH-logo_black_with-counties-tag-300x150.jpg
Asheville Habitat
2017-02-21 00:00:00
2017-02-21 00:00:00
Building More than Houses