Posts
https://www.ashevillehabitat.org/wp-content/uploads/2019/12/Evita_10.15.19_001-scaled.jpg
1075
2560
Maddy Alewine
https://www.ashevillehabitat.org/wp-content/uploads/2018/12/black-logo.png
Maddy Alewine
2019-12-02 12:18:53
2019-12-03 08:55:39
Five Reasons to Donate to Asheville Habitat
https://www.ashevillehabitat.org/wp-content/uploads/2019/10/Poder-Emma-HR_10.26.19_005.jpg
3003
4500
Ariane Kjellquist
https://www.ashevillehabitat.org/wp-content/uploads/2018/12/black-logo.png
Ariane Kjellquist
2019-11-01 09:10:57
2019-11-01 13:18:48
Innovative Solution to Community Need
Award, Habitat Families, Home Repair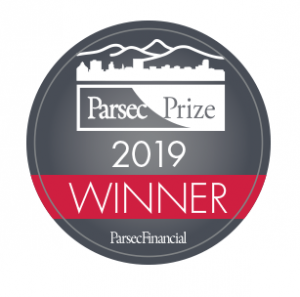 We are thrilled to be one of nine non-profits to receive the Parsec Prize from Parsec Financial in 2019! Other winners were: OnTrack Financial Education & Counseling, Food Connection, Working Wheels, Asheville Art Museum, Susan G. Komen Charlotte, Arts Council of Moore County, Conserving Carolina, and Senior Services
The Parsec Prize was started in 2005 by Parsec Financial in Asheville, NC. The purpose of the Parsec Prize is to help local non-profits further their missions and improve our communities.
Asheville Habitat plan to use the funds to increase our capacity and expand our Home Repair program, a critical program that preserves existing affordable housing stock and enables low-income homeowners to remain in their homes as they age.
/
by Ariane Kjellquist
https://www.ashevillehabitat.org/wp-content/uploads/2019/05/HR_March2019_Stephens-Hill-Rd_001.jpg
3003
4500
Ariane Kjellquist
https://www.ashevillehabitat.org/wp-content/uploads/2018/12/black-logo.png
Ariane Kjellquist
2019-05-08 08:53:23
2019-05-17 08:55:22
Proud Recipient of the Parsec Prize
Affordable Housing, Home Repair, Volunteer
By Sydney Monshaw
Every Wednesday, the Home Repair team knows that rain or shine, Garland Walker (pictured above, R) will arrive at the Asheville Area Habitat for Humanity office ready to spend the day serving the families of Buncombe County. Along with his coffee mug and lunchbox, Garland brings with him a steadfast commitment to building strength, stability and self-reliance. For 5 years, this Core Volunteer has spent every Wednesday helping to provide Home Repair clients with affordable solutions allowing them to remain safely in their homes. The Home Repair operations would not be the same without Garland, the repair team's first Core Volunteer.
Garland and his wife Ellen moved to Asheville in 2013 from Juneau, Alaska where he worked for the National Oceanic and Atmospheric Administration (NOAA). Throughout his career, Garland worked as an attorney in varied capacities from the military to private practice, finally spending the most time managing federal fisheries with NOAA in the North Pacific. When he arrived in Asheville as a recent retiree, Garland was eager to find volunteer opportunities that would be enjoyable and would show a visible difference in his community. That's when he found Asheville Area Habitat for Humanity.
Initially, Garland volunteered building new homes, and on his third volunteer day, he was assigned to work with Joel Johnson (pictured above, L) in Home Repair. He found that he really enjoyed this aspect of Habitat's efforts. Garland's volunteer day has always been Wednesday and often it was just he and Joel working on projects for Home Repair clients.
The thing that Garland values most about working on the Home Repair team is its mission. "Home Repair clients are generally older and economically challenged. Home Repair is a "home saver" because it allows them to maintain and improve their homes either at a small fraction of the local market cost or sometimes at no cost. Their gratitude for our work is infectious. I go home each Wednesday grateful for the contributions I made and more conscious of the many personal blessings I have."
Garland has also built lasting relationships with the Home Repair staff that he not only views as team mates, but as friends. Every Wednesday he faces new challenges that require varied problem-solving skills and he enjoys the fact that no two projects are the same. He is excited to learn new skills that he can use on his own home, too.
Garland recently received his golden hammer pin in recognition of 5 years of volunteer service. He is proud of this but views the accomplishment as a testament to the people, environment, and mission of Habitat that makes volunteers like him so willing to support the organization with their time, talent and financial means.
Over the last five years, Garland has seen many changes on the Home Repair front.
"I'm glad to note the recent ramping up of Home Repair staffing and funding. For this, I credit the excellent leadership of Joel, now the Home Repair Manager, along with the support of the Asheville Area Habitat for Humanity Board of Directors. While building new homes is incredibly important and an original core mission of Habitat, the need for home repair assistance among the elderly and economically disadvantaged is steadily growing in this area. Despite the great work of the Home Repair team, there still aren't enough local resources to meet the growing demand for this type of service."
Garland recognizes the value of his volunteer work in the larger picture of the Home Repair program. As this arm of Habitat service grows, Home Repair is in need of more volunteers they can count on every week. To learn more about volunteering with Home Repair, click here, and if you are able, consider committing one day a week as a Core Volunteer. The Habitat team is grateful for all of the volunteers, like Garland, who help to bring the growing vision of the Home Repair program, and Asheville Habitat, to life.
/
by Ariane Kjellquist
https://www.ashevillehabitat.org/wp-content/uploads/2019/04/Joel-Jan-Garland_HR-vols.jpg
2000
2992
Ariane Kjellquist
https://www.ashevillehabitat.org/wp-content/uploads/2018/12/black-logo.png
Ariane Kjellquist
2019-04-26 07:53:24
2019-04-26 08:03:30
Garland Walker Helps Habitat Meet Growing Community Need
Affordable Housing, Habitat Families, Home Repair
Stuck. In an unsafe home. Without resources to make simple things work, like a toilet, or to hire an electrician to repair faulty electrical outlets. After twenty seven years of wear and tear, and without the skills or financial resources to make necessary repairs, this is the situation in which former seamstress Geneva was living. It is not how her story of home began, nor is it where she expected it to lead. But sometimes you can't anticipate what life has in store.
Mold permeated her grandson's playroom, dangerous makeshift electrical work dangled by a cord, and there was no functional toilet. For years she lived with her situation, believing there was no other option. But taking in her six-year-old grandson Kaleel motivated her to seek help. That's when she discovered Asheville Area Habitat for Humanity's Home Repair program.
After her application was approved, our Home Repair team got to work, addressing the playroom first—a moldy converted garage. To remediate the moisture-induced mold problem, our team addressed drainage issues to divert water away from the house, pulled up the carpets, and removed and replaced the water-damaged sheetrock and framing. They installed new wall paneling and a new window and door. Growing Kaleel now enjoys a mold-free playroom. During the short time since the repairs were made, his asthma has improved!
Our crew also replaced one toilet and repaired another so that the family now has two working toilets. Several lights in this West Asheville house were not working and required improvements to the electrical system. The unsafe extension cords running throughout the house have been replaced and now light illuminates every room, safely.
Safety. Stability. Good health. It all starts at home. For nearly 35 years, Asheville Area Habitat has provided affordable homeownership opportunities to individuals and families through our new home program. But, for many people, the most affordable home is the one they already own. For the past six years, our Home Repair program has improved safety and accessibility for existing homeowners and their families. We've completed nearly 200 projects, and the majority of our Home Repair clients are elderly or disabled—some of the most vulnerable members of our community.
We repair and replace leaking roofs, update electrical and heating/cooling systems, add ramps and grab bars, and much more. Homeowners like Geneva pay only a fraction of the market cost of repairs, thanks to their sweat equity, our volunteers and affordable financing through Habitat.
Everyone deserves a decent place to live, and everyone can do something today to help make that possible for another family.
Geneva's is just one of many stories of need in our community. Your donation can build a roll-in shower for a disabled vet who couldn't bathe in his old claw foot tub. Or, it can install a new furnace for an elderly woman who has weathered the winters for years with dangerous kerosene heaters. These are real-life stories from Home Repair clients.
Your donation can change lives. Please make a gift today to help more families like Geneva's have a safe place to live. 
/
by Asheville Habitat
https://www.ashevillehabitat.org/wp-content/uploads/2018/12/SpringMailer2017_BlogImage-1.jpg
350
800
Asheville Habitat
https://www.ashevillehabitat.org/wp-content/uploads/2018/12/black-logo.png
Asheville Habitat
2017-04-13 00:00:00
2017-04-13 00:00:00
More than new homes: Habitat's Home Repair is changing lives.
Affordable Housing, Construction Services, Events, Home Repair, Staff, Volunteer
Each February, we celebrate our Construction Services volunteers with an Appreciation Breakfast. This year nearly 80 volunteers and staff members gathered as we celebrated collective accomplishments, honored longevity, recognized significant hourly contributions, and talked about the future.
Here are a few highlights shared during the event:
• More than 50% of the total volunteer hours contributed to Asheville Habitat's construction program in 2016, were contributed by 80 construction "core" volunteers! These folks volunteer on our jobsite at least one day each week.
• Collectively, construction cores provided 17,570 hours of volunteer service!
• 28 cores each contributed more than 250 hours of service last year. Each received a golden hammer pin.
• The highest hours earner was CJ Obara, with 641 hours!
Longevity awards recognize years of volunteer service:
• 5 years – Beth Greck and Buddy Tallant
• 10 years – Ross Akin, Alan Cutter, Joyce Davis, Lou Farquhar, Neil O'Sullivan, Ken Roth, Sharon Waugh, Jim Worley
• 15 years – Ray Ducharme, Bob Laveck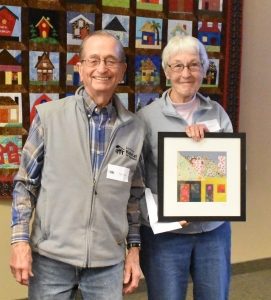 • 20 years – Ken and Carol Deal (pictured, R)
We celebrated staff milestones, too. John Meadows has been a Construction Supervisor for 10 years and Kenny Busch just reached the 15 year mark!
Director of Construction Services Paul Reeves noted that 2016 was a year of change, with multiple staffing changes and four different building sites. None the less, our staff and volunteers rose to the occasion and served the largest number of families to date. 44 Home Repair clients and 14 new homeowners in Buncombe County now have decent and affordable housing.
Looking forward, we'll be moving to Arden in the early summer to begin a 21-house subdivision, and we'll be building a Habitat house in McDowell County as part of the SECU Challenge to build or renovate 100 houses in 100 NC counties. Also, we will solidify plans to introduce multi-family housing on a 16-acre parcel in West Asheville that the City of Asheville is helping us secure.
Home Repair Supervisor Joel Johnson thanked his core volunteers, Lonnie Lief and Garland Walker, who have been volunteering consistently for 3 years. Home Repair is unlike new construction in that the scope of work varies from project to project and the jobsite often changes daily. It's difficult to plan a volunteer calendar in advance, so we appreciate Lonnie and Garland's flexibility and commitment to the growing Home Repair program.
We were also pleased to be joined by Jeff Staudinger (pictured below), the Community Development D
irector for the City of Asheville, who was able to put Habitat's contributions into the larger affordable housing context. He expressed the City's enthusiasm for Habitat's upcoming higher density neighborhood in West Asheville (currently referred to as Cedar Hill). Staudinger also referenced statistics from the Bowen Report and reiterate the City's commitment to creating new public/private partnerships, and continuing to work to remove barriers, increase density, and strengthen the relationship between housing and transportation. "Shelter is the foundation for everything else," he noted. "And as Habitat volunteers, you are working directly on the affordable housing crisis."
In closing remarks, Executive Director Andy Barnett reminded the audience, "You are volunteering regularly to build the kind of community you want to live in…you are the hearts, hands and voices of affordable housing. You embody our mission."
Habitat volunteers build and repair houses – and they build community. They help families build strength, stability and self-reliance. If you would like to be part of the affordable housing solution, click here to learn about Habitat volunteer opportunities.
To see event photos, please click here.
/
by Asheville Habitat
https://www.ashevillehabitat.org/wp-content/uploads/2018/12/blog-CS-vol-breakfast.jpg
350
800
Asheville Habitat
https://www.ashevillehabitat.org/wp-content/uploads/2018/12/black-logo.png
Asheville Habitat
2017-02-21 00:00:00
2017-02-21 00:00:00
Building More than Houses
Affordable Housing, Habitat Families, Home Repair
By Andy Barnett, Executive Director
Earlier this week, we observed the Martin Luther King Jr. Holiday. The holiday provides an opportunity to reflect on the legacy of Dr. King and to recommit to a vision of equity for our neighbors who face barriers due to intentionally discriminatory policies and structures of power. Dr. King saw a great deal of progress toward racial equity in his lifetime and we have seen more in the years since his death. But much remains to be done to realize the dream of a nation where everyone has the chance to live up to their potential regardless of where they start from and the obstacles in their path. Continuing this work is our challenge today.
One of the places where we haven't seen progress toward racial equity, where, in fact we see a widening gap between whites and people of color is in household wealth. In 1963, the disparity in median family wealth was about $40,000; white households now have a median net worth $123,000 higher than African American families according to a report by the Urban Institute. This means that white families are much more able to weather financial hardships, take advantage of education and career opportunities, and participate in a virtuous cycle where the wealth attainment of one generation becomes the platform for the next. Families of color are much less likely to see these benefits.
A number of factors contribute to the widening gap in wealth including income, employment, family wealth, and education attainment. But, the largest single factor is homeownership—accounting for more than 25% of the disparity according to a Brandeis study.  White households are more likely to own homes. In Buncombe County, 72% of white households own their home while fewer than half of households of color are homeowners. This level of disparity in homeownership is consistent with national homeownership gap. Not only are households of color less likely to own homes, they also build equity more slowly (and lose it more quickly) than white households.
This disparity is the result of intentional real estate and mortgage lending practices.  Beginning in the 1930's, federal underwriting policy established lending risk based on geography.  Communities of color were identified as having a greater risk of default. As a result, these "redlined" areas were largely excluded from the post-war housing boom in housing development finance. Across the country new developments legally excluded Black and Latino buyers through restrictive covenants, and at the same time, neighborhoods of color declined due to lack of capital investment.
This pattern of lending created, in effect, two housing markets. One that rapidly appreciated in value and was restricted to whites, and another for people of color where values and conditions stagnated or declined. Overtime the deteriorating conditions in these disinvested neighborhoods "proved" that race-based lending practices were justified and these neighbors were blamed for the poor conditions rather than recognized as victims of discriminatory practices. Even after housing discrimination based on race was outlawed, "blight" and a "blame the victim" culture made it easy to justify redevelopment and displacement. Unfortunately, two generations of households have missed out on wealth building through a period of historic home value appreciation.
This is where Habitat's work enters the story. We are a builder and a bank. Our programs simultaneously address geographic disinvestment and create a path to successful homeownership. Habitat develops housing in neighborhoods that other developers might reject, but where opportunities exist for a good quality of life for homeowners. Depending on the market, Habitat's investment can boost a stagnating market or build long term economic integration in a "hot" market. By financing and assisting repairs for existing homeowners, Habitat preserves the housing stock and adds value to existing neighborhoods. Habitat lends to first time buyers and finances repairs for existing owners that other lenders have determined are too "risky". Through careful underwriting, extensive education, a focus on partnership with the borrower, and a commitment to affordable mortgage terms, Habitat successfully extends homeownerships to households with incomes well below what it would take to qualify for a conventional mortgage. Since 2010, 45% of those new homeowners were households of color.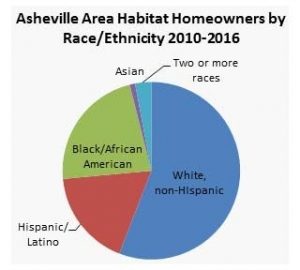 Habitat creates a way for households facing economic barriers to achieve homeownership and begin to close the wealth gap, but we can't do it alone. To achieve equity in rates of homeownership nearly 3,000 additional households of color in Buncombe County will need the opportunity to become homeowners. To achieve this scale, we will need many more lenders to adopt policies that help households of color overcome historical barriers to mortgage loans. We need to grow housing and financial counseling opportunities to help aspiring homebuyers become "mortgage ready". We need more affordable rental options and tenant advocacy so that renters have the stability needed to save and prepare for future ownership. Finally, we need home repair and foreclosure prevention assistance to help existing homeowners to remain at home. In short, it will take everyone committing to give our time, our financial support, and our voices to advance the dream of equality of opportunity for all our neighbors regardless of race.
P.S. – On MLK Day, a group of Habitat staff members and volunteers watched this 30 minute film together to gain a better understanding of the complex roots of today's racial inequity in housing. I encourage you to make the time to watch it.
/
by Asheville Habitat
https://www.ashevillehabitat.org/wp-content/uploads/2018/12/blog-racial-inequality-in-housing.jpg
350
800
Asheville Habitat
https://www.ashevillehabitat.org/wp-content/uploads/2018/12/black-logo.png
Asheville Habitat
2017-01-20 00:00:00
2017-01-20 00:00:00
Where Habitat Fits in the Movement for Racial Equity
Habitat Families, Home Repair, ReStore, Volunteer
By Kristen Keefer
Carolyn McDonald and Jo Harvey, friends since childhood, meet every Tuesday to volunteer at the ReStore. The duo spends their time alongside core volunteer Susan Diehn at the checkout-counter. "Susan is great; she really helped me learn the ropes," remarked Carolyn who has been volunteering for over a year and recruited Jo to begin volunteering this past June. In regards to bringing Jo on-board Carolyn said, "Jo knew I wouldn't lead her astray, we've been friends forever." Jo agreed: "I jumped right in at the ReStore and really enjoyed it!"
Carolyn initially became acquainted with Habitat through the Home Repair program. Our repair team completed much-needed repairs on her home's roof, and electrical and plumbing systems. As part of her home repair client agreement, she needed to complete sweat equity hours, and she chose to complete them at the ReStore.
After completing the required volunteer hours, Carolyn decided she wanted to continue her service. She explained, "I love it here. Everyone is just awesome and I look forward to coming in!" She expressed her appreciation for the ReStore's Volunteer Coordinator Carrie Burgin, saying "Carrie is amazing; she works with my schedule and is a very caring person."
Both Carolyn and Jo enjoy working alongside other Habitat volunteers and staff, and they appreciate what Habitat does for the community. "It is just amazing, all the people Habitat helps, all the good that they do," remarked Jo. A longtime fan of Habitat's work, she first became acquainted with Habitat's mission through her grandchildren who have spent time volunteering on Habitat construction sites.
The women dedicate their time outside of Habitat to helping others as well. On the weekends, Carolyn is a Medical Technician at North Ridge Assisted Living. And, throughout the week Jo helps care for a member of her community by transporting him to and from adult day care, as well as getting him breakfast in the mornings and making him home cooked meals in the evening.
Lifelong friends Jo and Carolyn are dedicated to service at the ReStore and in the community. Their story exhibits the value of a strong friendship, and demonstrates how sharing a new opportunity with a friend can be very special. We're grateful that Carolyn chose to continue her service at the ReStore, and that she brought Jo on-board, too!
Photo (from L to R): Susan, Carrie, Carolyn and Jo
/
by Asheville Habitat
https://www.ashevillehabitat.org/wp-content/uploads/2018/12/blog-Carolyn-and-Jo-1.jpg
350
800
Asheville Habitat
https://www.ashevillehabitat.org/wp-content/uploads/2018/12/black-logo.png
Asheville Habitat
2016-10-13 00:00:00
2016-10-13 00:00:00
A Delightful Duo: Lifelong Friends Provide Service to the ReStore
Construction Services, Volunteer
March Madness is almost here, but for Asheville Area Habitat for Humanity that means an influx of college students spending their spring break volunteering rather than heating up the basketball courts. Each group brings 12-14 volunteers, funds, and a surge of energy that matches any overtime game.
This year we are hosting the following three Habitat for Humanity Collegiate Challenge groups, as well as a high school team from Michigan.
Construction Services Volunteer Coordinator Stephanie Wallace noted, "We are thrilled to welcome three Collegiate Challenge teams AND a high school group this year. This is a great mix of old and new with Villanova and Battle Creek Academy joining us for the first time, while Lesley and Ramapo are returning for the 5th time!"
Lesley University student Audrey remarked, "Working with Habitat has been one of those experiences where you gain just as much as you give…One of the Core volunteers said something that stuck with me: 'The people that do service are the type of people who I'd like to have as either close friends or neighbors'.'"
The groups are housed at Blue Ridge Assembly in Black Mountain, allowing them to enjoy the beauty of the mountains with access to hiking trails nearby. Each group will participate in a dinner with Habitat partner families who are in-process, allowing the volunteers an opportunity to get to know the people they are helping through their volunteer labor.
Past participant Victoria from Ramapo College, offered this reflection at the end of her alternative spring break with Asheville Habitat: "I think I really found myself by helping others, which is why when the partner families thank us, I just really wanted to thank them because without these opportunities to give back my life would be extremely different. Service has helped me find my passion and purpose in life and I'm so grateful for that."
If you'd like to participate in some way (think: donate meals), please contact Stephanie at 828.210.9383 or swallace@ashevillehabitat.org.
/
by Asheville Habitat
https://www.ashevillehabitat.org/wp-content/uploads/2018/12/blog-March-Madness-1.jpg
350
800
Asheville Habitat
https://www.ashevillehabitat.org/wp-content/uploads/2018/12/black-logo.png
Asheville Habitat
2016-02-29 00:00:00
2016-02-29 00:00:00
It's March Madness Time!
Habitat Families, Home Repair
Not everyone needs a new home; some just need help repairing the home they already own.
Meet Abdul Ahmad, one of our Home Repair Clients
Written by Pat Bacon
Abdul Ahmad's gently creviced face, framed in cropped shiny white hair, is equally as inviting as his bright yellow house where he has resided for the past twenty-two years. "Many people from the Caribbean like bright colors and now I see four other houses in the Shiloh community that people have painted yellow!" Originally from Barbados where life is sophisticated yet casual, warm and friendly, he and his wife, the late Betty Ahmad, were married in New York. When she wanted to move back home to Asheville to help care for her ailing mother, they rented this (now yellow) house and soon thereafter purchased it and made it their permanent home.
Abdul resoundingly endorses life in the Shiloh community and he quickly volunteers that he knows and likes all of his neighbors, and his neighbors know and like him. As he and I greeted each other on his front lawn, neighbors passed by waving their hands and tooting their horns, acknowledging Abdul. He waved and smiled back, the feelings mutual. "Shiloh reminds me of Barbados where days are sun-filled and the nights are balmy. There is nothing like being around friendly, caring folks who greet you and shake your hand and help each other. Shiloh is near almost everything – shops, stores, cleaners, restaurants, everything. There is no better place to live."
Like the outside, the inside of his house is bright, but it is a subtle brightness. It is also open – open because the living room, dining room and kitchen all easily flow together, reminiscent of gentle island life. It's obvious that the dining room is the focal point of the house. A round table and comfortable chairs in the middle of the house make it ideal for all kinds of gatherings and the television has been placed high enough on the wall so that all can see the important sporting events. The cream-colored walls and flowing cream-colored curtains encourage the sunlight to stream in and fill the space. There are remnants of Betty's plants in front of the windows; Abdul readily admits that caring for plants is not his strong suite. A bathroom and two bedrooms complete this cozy, compact home.
Upon arriving in Asheville many years ago and before getting a full-time job, Abdul fondly remembers volunteering on two Habitat houses. Thus it was natural for him to turn to Habitat for help when he learned about the repair program. With his modest retirement income derived from working with the City of Asheville and other private companies along the way, there was no budget for repair work.
Because of Habitat's affordable home repair program, Abdul now enjoys a much-needed new roof, a walk-in shower, railing for his steps and the fresh bright yellow paint job. Abdul feels safer and he is renewed by the new look of his home. "It feels good to have these things finally done and at such a good price. I tell people about Habitat all the time. I even brought someone to the Habitat Office to pick up an application."
Abdul has three adult children and two grandchildren who visit him, and he in turn visits them. He celebrates that his house is more inviting now. Thoughts of past gatherings, particularly around Christmas and Thanksgiving, bring a big ready smile to his face. These days it gives Abdul pleasure to help others; he often drives neighbors and friends to assorted destinations. Abdul, an avid reader, enjoys reading about current world events and he admits that he'd really like to write short stories. He's promised to share them when he does.
If you or someone you know is interested in our Home Repair program, click here to learn more.
/
by Asheville Habitat
https://www.ashevillehabitat.org/wp-content/uploads/2018/12/HomeRepair__Ahmad_800x350.jpg
350
800
Asheville Habitat
https://www.ashevillehabitat.org/wp-content/uploads/2018/12/black-logo.png
Asheville Habitat
2015-08-28 00:00:00
2015-08-28 00:00:00
Helping People Live Better in the Home They Already Own
Events
Sorry, no posts matched your criteria
Portfolio Items
Administrative Office
33 Meadow Road Asheville, NC  28803
828-251-5702
Hours:
Monday - Friday
8:30am - 5pm
CURRY COURT BUILD SITE
110 Curry Court Candler, NC 28715
ReStore – ASHEVILLE
31 Meadow Road Asheville, NC  28803
828-254-6706
Hours:
Monday - Saturday
9am-6pm
RESTORE – WEAVERVILLE
61 Weaver Blvd. Weaverville, NC 28787
828.484.9432
Hours:
Tuesday - Saturday
10am-6pm