Another Home Repair Success Story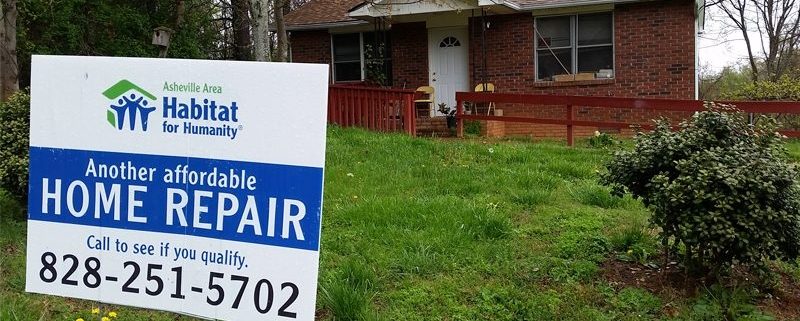 The Barnard Family – Comfortable and Happy in Their Recently Repaired Home
Written by Pat Bacon, Habitat's Family Support Specialist
When I pulled into the snowy driveway that faces the Barnard house, I could see a curtain move from one side of the window to the other, and before I could get out of my car and walk toward the front door, Angela Barnard had opened it and was standing on the front porch. Anticipating a visitor, a much-loved cat scampered underneath the house. Angela's smile was welcoming as she invited me to come inside. She said that she had been waiting for me and in a pleasant voice, she called out to her husband, Neal, "Ms. Bacon is here. Come into the living room; she came from Habitat to talk with us."
The living room was toasty and full of a variety of colorful artificial flowers. Neal said, "Ann (short for Angela) prefers artificial flowers to live plants because she doesn't have to water them and there is always something pretty to look at in the room…. Ann likes pretty things." Three of their twelve-year-old wedding pictures are proudly and prominently displayed on one wall. The wedding was in the living room and Ann did all the preparations for the wedding. A tall brown, beautifully dressed ceramic angel surrounded by sea shells reigns over the coffee table situated in the middle of the room. The angel, given to Ann by her mother, is bordered by two smaller angels, and Ann says, "Together they represent my mother, my sister and me." She swallows because her mother and her sister are deceased, but Angela quickly recovers and says, "Now Neal is the focus of all of my attention." With no hesitation Neal echoes Ann's words, "And Ann is the focus of all of my attention." They smile at each other knowingly; their devotion to one another obvious.
Neal and Ann have each known illness and stints in the hospital. Neal has also spent time in a rehabilitation facility to re-gain his ability to walk. Both are now recovering at a steady pace, mindful of their doctors' directions, and equally mindful of each other.
When they realized that their house was in need of some repairs they knew that their combined, modest monthly incomes would not allow them to approach conventional repair sources. It was then that Angela remembered that she had heard about Asheville Area Habitat for Humanity's repair program. After talking about it, just as they do everything else, Neal and Angela requested an application. They are both quick to say that from the onset Habitat's staff was responsive and pleasant. They are appreciative of the way the staff carefully explained the application process, answered their questions and assessed the work that needed to be done.
And when the work was completed, they were very satisfied that it was well done and a good price. A new front door makes them feel safe and secure, and it also makes the approach to the house more attractive. An unsightly hole in the ceiling between the living room and the hallway has been repaired, and the new kitchen sink and cabinet makes Ann beam with delight. To top it all off, the kerosene heaters that they once used to keep themselves warm are now in a corner because they have a new HVAC system complete with floor registers and ducts.
Angela and Neal said that because the cost for the repair work was so reasonable, they will be able to make the payments with no trouble. They are actively telling other homeowners about Habitat's Home Repair program, and Ann says, "I want others, like Neal and me, to know about this wonderful opportunity that helps people who just need a chance. We want other people to enjoy their homes like we do now. Habitat is a program that cares about people."
As I prepare to leave, Angela invites me to see the kitchen. As I stand in the doorway, she pats the new cabinet around the sink and we smile at each other. We make our way to the front door and as she opens the door, the cat scampers back inside as fast as he came out. It's a cold day outside, but it's warm and toasty inside the Barnard house.
If you or someone you know is interested in our Home Repair program, please click here.
https://www.ashevillehabitat.org/wp-content/uploads/2018/12/Blog-BarnardHomeRepair_800x350.jpg
350
800
Asheville Habitat
https://www.ashevillehabitat.org/wp-content/uploads/2022/11/AAHH-logo_black_with-counties-tag-300x150.jpg
Asheville Habitat
2015-04-27 00:00:00
2015-04-27 00:00:00
Another Home Repair Success Story